With Yellowjackets season 2 now well underway, there's plenty to unpack in the latest installment of the hit plane crash thriller. We've still got dual timelines to deal with and the action is kicking off in both the '90s as the teen soccer players try to survive winter in the wilderness, and in the present day, when the adult versions of Shauna, Taissa, Misty, Nat, and Lottie are still fighting the demons from their past that we still haven't fully glimpsed yet.
For the full rundown on Yellowjackets season 2, we've got your complete guide right here – including release dates, a round-up of our weekly reviews, and a recap of the story so far.
Yellowjackets season 2 release dates
Yellowjackets season 2 is now releasing on Fridays on Paramount Plus, before airing on Showtime in the US every Sunday. New episodes get added to the streaming platform at 12am PT/3am ET in the US and 8am BST in the UK. Here's how the season is set to pan out:
Yellowjackets season 2 episode 1 – Friends, Romans, Countrymen: March 24 – out now!
Yellowjackets season 2 episode 2 – Edible Complex: March 31 – out now!
Yellowjackets season 2 episode 3 – Digestif: April 7 – out now!
Yellowjackets season 2 episode 4 – Old Wounds: April 14
Yellowjackets season 2 episode 5 – Two Truths and a Lie: April 21
Yellowjackets season 2 episode 6 – Qui: May 5
Yellowjackets season 2 episode 7 – Burial: May 12
Yellowjackets season 2 episode 8 – It Chooses: May 19
Yellowjackets season 2 episode 9 – Storytelling: May 26
Yellowjackets season 2 review
We're reviewing Yellowjackets season 2 on a weekly basis, with new, spoiler-free reviews dropping every Friday.
Our reviewer gave Yellowjackets season 2 episode 1 four stars, saying that the "season 2 premiere pulls us straight back into the action and it's like we've never been away."
"There's a darkness lurking under the surface in episode 1. It's a tense, frenetic energy that's not bubbling up anytime soon. But when it does? It's going to be spectacular."
Our Yellowjackets season 2 episode 2 review jumped up to four and a half stars, with our reviewer writing that, with six episodes still to go, the season "certainly isn't pulling any punches."
"It's still holding enough back to keep us on our toes, though, make no mistake – this is exactly what you want from a weekly episodic release schedule. As the episode's final haunting scene fades to black, we can be certain of one thing: this is merely a terrifying tease of what's to come."
Yellowjackets season 2 episode 3 slowed the pace down and our reviewer gave the episode three stars, writing that "it feels like the show is floundering a little" after the jaw-dropping final scene of episode 2.
"Despite a feeling of directionlessness permeating this installment, the episode's creepy conclusion pulls us back into the Yellowjackets intrigue we know and love and ups the momentum ready for next week. If episode 2 saw things unraveling in the '90s timeline, episode 3 shows that not much has changed in the present day. Despite its strong moments, though, this week's Yellowjackets feels a bit too much like filler – and we know this show is capable of so much more."
Yellowjackets season 2 cast
Sophie Nélisse, Jasmin Savoy Brown, Sophie Thatcher, Sammi Hanratty, Liv Hewson, and Courtney Eaton return as teenagers Shauna, Taissa, Natalie, Misty, Van, and Lottie. The 1996 timeline will also see the return of Steven Krueger as assistant coach Ben.
Meanwhile, Melanie Lynskey (Shauna), Tawny Cypress (Taissa), Juliette Lewis (Natalie), and Christina Ricci (Misty) return as their adult counterparts. Season 2 also sees the addition of Servant star Lauren Ambrose as the adult version of Van and Obi-Wan Kenobi and Our Flag Means Death actor Simone Kessell as the adult version of Lottie. Another new addition to the cast is Elijah Wood, who plays Walter, a dedicated citizen detective who's joining forces with Misty.
Yellowjackets season 2 story so far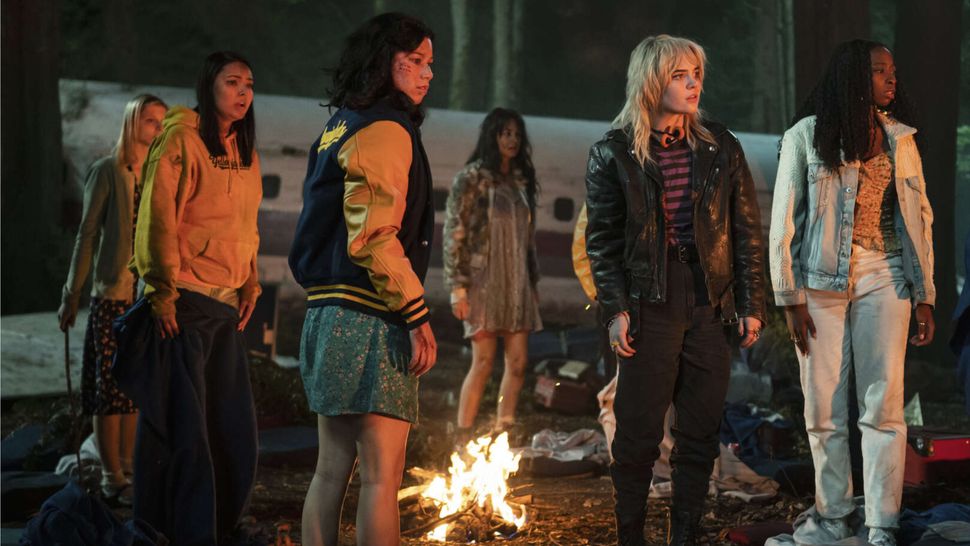 Season 1 ended with Natalie being kidnapped by a mysterious group – meaning she missed the voicemail from her friend Suzie informing her that it was Lottie who emptied Travis' bank account after his death. We now know that Lottie is involved, but just why she's decided to kidnap Nat still remains to be seen.
Elsewhere in the present-day timeline, Taissa has won the state senate election, but the episodes that we see glimpses of in the '90s timeline are starting to rear their head again with Tai suffering from disturbing hallucinations. At the end of season 1, her wife Simone (Rukiya Bernard) found a hidden shrine in their basement containing the decapitated head of their dog, their son's doll, and a human heart. Simone gives Taissa an ultimatum in season 2 episode 1: get the help she needs, or she'll leak the story to the press and end her career.
Meanwhile, Shauna is dealing with the repercussions of killing her lover Adam (Peter Gadiot) at the end of season 1 after she wrongly believed that he was blackmailing her and the other survivors. Her daughter Callie (Sarah Desjardins) is suspicious of her mother, for one thing, and she may or may not have found some key evidence that Shauna thought she'd destroyed at the end of the season premiere. Plus, the police are hot on her heels, with an undercover officer even targeting Callie in a bar in episode 2.
As for the girls in 1996, Shauna is still pregnant (and has even had a baby shower...), but we know that in 2021 she only has one child, a teenage daughter, and living out in the wilderness with no medical care it seems unlikely she will carry the pregnancy to full term. Plus, winter is well and truly here, and the girls are resorting to desperate measures to stay alive. Lottie's grip on the girls only seems to be growing. Nat and Travis are still looking for his younger brother Javi, but considering some time has passed since he went missing at the end of season 1, it's not looking good.
---
Up to date on Yellowjackets season 2? For more viewing inspiration, check out our guide to all the other best new TV shows coming our way in 2023 and beyond.