Redfall is set to launch in just a couple of weeks and the hype is beginning to build. This new co-op shooter is one of our most anticipated new games for 2023, with developer Arkane channelling everything it has learned from Dishonored 2, Prey, and Deathloop into an experience which draws inspiration from Dungeons & Dragons and Far Cry 2.
Redfall will see you team up with friends (or go it alone) to clear out a vampire infestation from the titular town of Redfall, Massachusetts. You'll build an arsenal of wild vampire hunting weapons, gain control over some spectacular supernatural powers, and then work to shoot and stab your way through a world populated by vampires and cultists in what is undoubtedly one of the most highly anticipated upcoming Xbox Series X games to release this year.
So keep reading to learn everything you need to know about Redfall, including news on how the day one Game Pass release won't launch with a 60fps performance mode on Xbox Series X.
Redfall release date
The Redfall release date is set for May 2, 2023. This was announced during Microsoft Gaming's first Xbox Direct, where we were given a new look at its open world and cooperative gameplay. Redfall was originally supposed to release in Summer 2022, although a delay pushed the game into the new year as co-creative director Harvey Smith said that "the team needs more time to bring the game to life." It looks like the additional months of polish have gotten Redfall into a good place, so we'll see you online this May.
Redfall platforms
Redfall is confirmed to launch on Xbox Series X and PC, via Steam and the Epic Games Store. It will also be added to the full Game Pass list on day one. While Xbox One isn't listed as an official platform, Redfall will also be playable via Xbox Cloud Gaming, which will allow owners of the last-gen system to access the game via the Azure Cloud streaming network, should your internet be high-speed enough to support it.
Will Redfall be on PS5?
Redfall will not be available on PS5 or PS4. Developer Arkane Studios and publisher Bethesda became a part of Xbox Game Studios in March 2021, making it unlikely that any of its future games will come to PlayStation platforms. Arkane did release Deathloop as a timed PS5 exclusives in 2021, but that deal was signed long before Microsoft Gaming acquired the studio and its IP.
Redfall trailer
Arkane has released two Redfall trailers so far. The first came during the Xbox and Bethesda E3 2021 showcase, where Redfall was revealed with a sizzling cinematic – a mood piece that set the tone for the world, characters, and vampires. A year later, the studio released the first Redfall gameplay trailer, which you can watch above. In the six minute video, we're able to get a sense of how Redfall will play and how its four heroes intersect with one another in both solo and co-op configurations. As far as first looks go, it's made the wait until the 2023 release even tougher.
Exclusive Redfall interview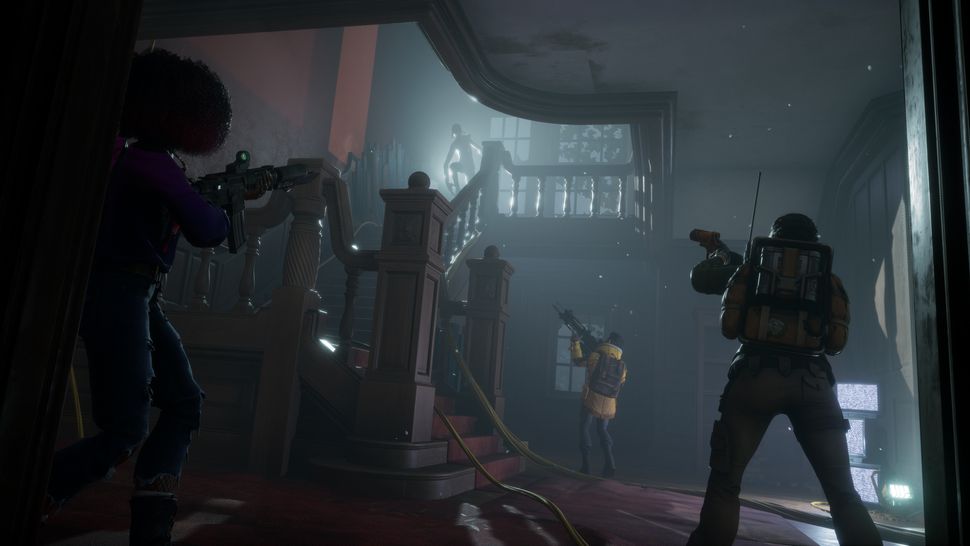 GamesRadar+ spoke with Arkane studio director Harvey Smith and creative director Ricardo Bare to dive deep into this highly anticipated Xbox Series X game. In our exclusive Big in 2023: Redfall interview, we learned more about the world and combat – and how games like Far Cry, Stalker, and Borderlands helped shape the co-op shooter.
Redfall gameplay impressions
We went hands-on with 90 minutes of Redfall and found Arkane's attempt to merge its immersive design sensibilities with a Far Cry-style open world to be seriously promising. You'll want to read our full Redfall hands-on preview impressions to learn more, and for more detail on the gunplay, open world, and how it feels as a single-player experience.
Redfall crossplay confirmed
Arkane has confirmed (opens in new tab) Redfall crossplay support across all platforms. While you enjoy the co-op shooter as a single-player experience, if you want to team up with your friends you'll be able to do so without restriction. Redfall crossplay will work regardless of whether you and your buddies are playing on Xbox, PC, and Epic Game Store.
Redfall gameplay details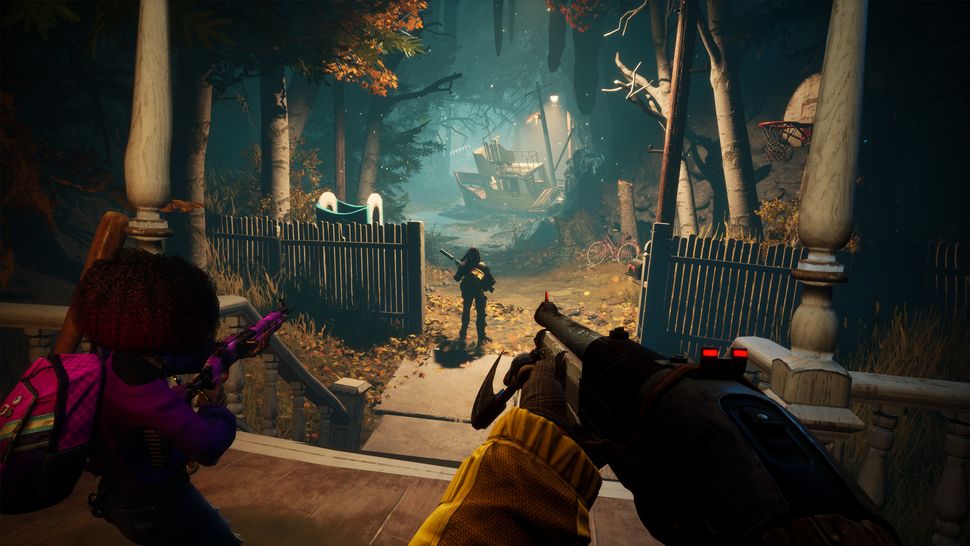 Redfall is a first-person shooter set in the open world of Redfall island. It's the latest experience from Arkane Austin, the studio responsible for Prey (2017), as well as the talent behind Dishonored (2012) and Dishonored 2 (2016). With Redfall, Arkane is attempting to combine its penchant for narrative-driven storytelling and carefully leveraged level design, with an ambitious four-player co-op frame and a multitude of intertwining supernatural powers.
From what we've seen of Redfall so far, it looks like a mix of the action of Deathloop, the powers of Dishonored, and the world design of Prey – all of it routed through a small town off the coast of Massachusetts which has been infested with vampires. It looks like a lot of fun, particularly the way the heroes can play off of one another with their weapons and abilities. Co-creative director Harvey Smith had this to say about the interplay between Redfall's various elements:
"Redfall is a game where stealth can be used to get the drop on an enemy, reach a good vantage, or avoid a combat encounter altogether. It's not a pure stealth game, but a stealth-enabling shooter. We love that because having AI with simulated hearing and sight always leads to interesting dynamic gameplay moments. Creeping up on enemies, avoiding notice, using the right weapons and damage types, choosing when to employ your crazy powers, knowing when to break off combat and stake a vampire that's been petrified by UV light, all of that is part of Redfall's tactically expressive gameplay."
Redfall performance mode
Arkane has confirmed that Redfall won't run at 60fps on Xbox Series X at launch. The studio says that (opens in new tab) "Redfall is launching on Xbox consoles with Quality mode only", which means that Xbox Series X players will be able to run the game at 4K, 30 frames-per second; Xbox Series S players will be able to play Redfall at 1440p at 30fps. Arkane says that "60 FPS Performance mode will be added via game update at a later date."
Redfall co-op and single-player structure
If you've seen the gameplay trailers, you may be wondering whether Redfall can be played solo or whether it's a multiplayer-only experience. Arkane has confirmed that while Redfall can be played in co-op between four players, you can explore the entire world and experience the story alone if you want to. The studio is, after all, known for crafting intricately crafted narrative-driven games, and that was something Arkane was keen to retain in Redfall – even as it broadens its horizons. "Redfall is an open world game, but it can be soloed with any of the heroes," says co-creative director Harvey Smith (opens in new tab). "The pace becomes more exploratory; you can use recon and stealth to gather info on encounters and avoid enemies or get the drop on them."
If you want to go it alone, Redfall won't introduce AI teammates into the mix – you'll be running completely solo. As for the benefits of folding friends into the action, art director Karen Segars says that it's in co-op where Arkane's love of systemic gameplay will really shine. "Being able to use your powers and tools in interesting combinations and then layering those with other players with different powers and tools makes for even more fun and unexpected ways to approach the world of Redfall."
Redfall customisation is supposed to be expressive
Arkane is no stranger to building out weird and wonderful powers to complement excellent stealth systems and fantastic gunplay – it's what helped make games like Dishonored, Deathloop, and Prey so beloved. Naturally, Redfall doesn't look like it's going to disappoint in this regard. Arkane has only given a fleeting look at the Redfall customization systems, but from what we've been able to glean they look expansive – broad enough that if all four players of a co-op group wanted to be Layla Ellison, "the telekinetic threat in student debt", then each would have the scope to create a highly specialized version of the character that can play differently from the others.
You'll earn skill points by completing story and side missions scattered throughout the open world, which can ultimately be spent on upgrading your character's passive and unique abilities. Arkane is yet to go into more detail on the skill trees, but we can confirm that cryptid hunter Dev Crousley has 38 available abilities which are split between four skill trees, grouping specific character traits and more general utility options like health recovery or increased storage for ammunition and lockpicks. So, expect the other three characters to offer similar depth in that respect.
It appears that Redfall will let you equip one Vampire God Remnant, one Blood Remnant, and three Soul Remnants – although Arkane is yet to detail what these are just yet. As for the weapons, much like in Deathloop you can have three weapons equipped at any one time, which the studio says will have an element of randomization to them. "We have loadout options players already know and love, like rare shotguns and sniper rifles with randomized weapon traits to make each drop feel like one of an endless potential of combinations," says production director Ben Horne (opens in new tab). " In addition to that, some of our weapons are unique vampire hunting weapons –like the Stake Launcher or UV Beam – that can be used tactically to eliminate the vampire threat."
The Redfall setting takes us to Massachusetts
Arkane has picked the fictional island of Redfall as the setting of its latest game, a small picturesque town off the coast of Massachusetts. While Redfall isn't the first open world game created by Arkane, it will reportedly be its biggest. "I think the Talos I station in Prey was five football fields, and the size of Redfall is kinda 'hold my beer,'" teased art director Karen Segars (opens in new tab). "We definitely challenged the whole team with making something this big."
Studio director Harvey Smith has sought to calm fears that Redfall would lack the sort of environmental storytelling (opens in new tab) that helped make games like Dishonored and Deathloop feel so lived-in. "The setting is narrative-rich, with lots of environmental storytelling. You learn a lot about the lives of the people who live (or lived) there. Our lore is important as a part of how we get under the player's skin. Searching an abandoned house with a flashlight, learning about what occurred there, looking for resources, avoiding dormant vampires…all of that is critical to the experience."
As for the benefits of an open world, whether you're playing Redfall solo or with up to three friends in co-op, co-creative director Ricardo Bare says that this more open-ended structure will give you the capacity to define the pace of the adventure, and create your own stories alongside the core narrative frame. "The wonderful thing about going open world is that players have the flexibility to poke around at different things at their own pace. If a particular vampire fight feels too tough, you can always go tackle a nest or do a favor for one of your fellow Redfall survivors to level up or earn some new gear, then come back to that nasty vampire fight."
Redfall vampires and cultists
Redfall's primary enemies are vampires, and not the sort of glitzy blood-suckers that you traditionally see in the movies. Arkane studio head Harvey Smith says that the Redfall vampires (opens in new tab) "are not some aspirational fantasy" but "predatory monsters who feed on the vulnerable to make themselves more powerful." That scale of power is something you'll have to contend with all throughout Redfall, with the vampiric food chain creating a scale between cannon-fodder minions to highly-specialized enemies who can wield powerful abilities.
Vampires aren't the only threat you'll need to contend with while exploring The Island. Arkane says that Redfall's vampires were created by science, as part of a longevity experiment that went horribly wrong. As a result, the vampires have a particular outlook on life and understanding of human nature. That's something they put to good use, manipulating many of Redfall's citizens into becoming subservient cultists who patrol areas of the island and hunt down any survivors who haven't yet gotten on board with the whole 'let's block out the sun' program.
While most of the weapons seen in the Redfall trailers so far are either specialist (as in, created specifically for one of the four heroes) or more rustic in design (the sort of cobbled together weaponry that the people of a small isolated island town could be armed with), we have spotted a couple of guns with a more militaristic edge to them, which could indicate that we'll have to contend with the army at some point too… watch this space for more on that one.
Redfall characters explained
Redfall features four playable characters: A college student, a cryptozoologist, a combat engineer, and a mercenary. Now, while that sounds like the opener to a bad joke, it's actually the foundation that will help define Redfall against other upcoming co-op games like Dead Island 2 and Suicide Squad: Kill the Justice League. Each hero comes equipped with their own character-specific abilities, which you'll be able to deploy alone or in co-op as you begin to clean a town infested with vampires.
Devinder Crousley – "The verified cryptid hunter"
Dev is a cryptozoologist, aspiring inventor, and an internet influencer who gets stranded in Redfall while on a book tour. His experience as a cryptid-hunter allows him to craft intuitive anti-vampire weaponry, which present new offensive capabilities and utility support for others in co-op.
Layla Ellison – "The telekinetic threat in student debt"
Layla Ellison is a biomedical engineering student, enrolled at Redfall Technical University. After struggling with student debt, Ellison volunteered for a medical trial at Aevum Therapeutics. After the trial goes horribly wrong, Ellison ends up with a suite of superpowers that can be used for offense, defense, and to help her new friends experiment with verticality.
Jacob Boyer – "The deadeye with an undead eye"
Jacob Boyer was once a part of a covert Special Forces unit in the US military, before joining up with a PMC called Bellweather. Boyer was assigned a mysterious contract on Redfall island, one which called for his expertise as a marksman. Once there, however, he ultimately gained a vampiric eye and can now command a psychic, spectral raven.
Remi De La Rosa – "The Ingenious Ingeniera"
Remi De La Rosa is a member of the Coast Guard and a robotics engineer, who built a robot cohort, Bribón, to function as a decoy, cover, and attack drone to aid her on the frontlines of disaster response. De La Rosa was sent to Redfall to train the local Coast Guard contingent in search-and-rescue techniques, only to be stranded fighting vampires with Bribón.